We love food!
Eating means for us to nourish our body and soul and we celebrate it as a time of connecting with each other – either to start into the new day and to make plans together while enjoying a healthy and empowering breakfast from our buffet nor to end the day and to reflect about the experiences of the day while dinner time.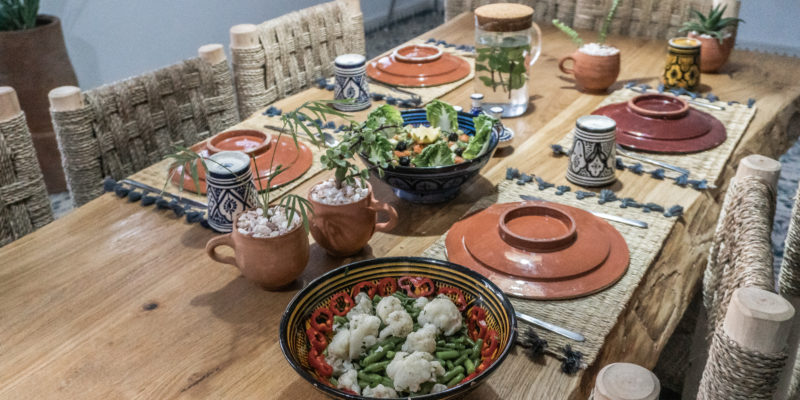 Our chef Karim is cooking a blend of typical Moroccan dishes as well as Mediterranean and modern cuisin
On the menue is fresh fish and meat as well as vegetarian options. We use organic products as well as seasonal fruits and vegetables as much as we can and put a lot of effort in the selection of our dishes to make sure that you get enough proteins and vitamins, healthy fats and carbs for a lot of energy in the water.
We serve breakfast daily from 08.00 till 09.00 and dinner starts at 19.30. We serve lunch as a picnic in between the surfing sessions on the beach. In the late afternoon there are juices, smoothies, coffee and tea as well as homemade cakes or sweets available – as food also means enjyoment for us!
We do our best to support you with special menue requirements which you might have. Therefore we ask you to communicate it to us at least 7 days before your arrival.
Join us and explore homemade Moroccan dishes infused with modern cuisin as well as the Moroccan way to celebrate food